Case Study: City Choked with FOG Trials Helix.
A major west coast city operates and maintains various wastewater collection systems in and near the city. Like most municipalities, the city has experienced many SSOs (Sanitary Sewer Overflow) due to a variety of causes, primarily grease (FOG) blockage of sewer pipelines and roots. Between 1995-1999, approximately 30% of the SSOs were due to FOG blockages, second only to root intrusions. In seeking a method to maintain the many miles of sewer main, the city contracted with a major engineering firm to evaluate potential suppliers of Sewer Grease Control Products (SGCPs).
Testing
Evaluation of products conducted in 2 phases. Phase 1 included review of literature, selection of methodology of products, and bench testing of products. 3 SGCPs were short listed for Phase 2 testing. Phase 2 focused on field testing of selected SGCPs during 2004-2005. Primary purpose of field trials was to determine real life effectiveness of SGCPs in maintaining sewer pipelines free of FOG. Engineering firm used a methodology utilizing CCTV at test sites based on quantitative and qualitative factors to ensure objective scoring of all products.
Scoring system is as below. Highest possible score of 9 total points.
FOG coverage score (maximum 3 points)

Bonus score (maximum 3 points)

Visual inspection score (maximum 3 points)
Maximum total of 9 points. (A score of 5 points is considered proof of satisfactory product performance.)
Test Scores
Competitor A: 5.9

Competitor B: 4.8

Helix HL-5000: 7.7
With a total score of 7.7, Helix HL-5000 was the only product that received Bonus Points. HL-5000 was the only product in the test that not only prevented any further FOG buildup, but also got rid of the grease (FOG) that was there to begin with.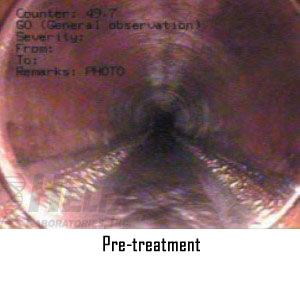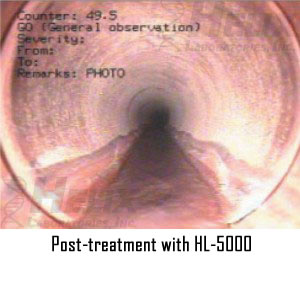 Location
5105 N.W. Beaver Drive
Johnston, IA 50131
Phone: (515) 276-3352
Toll-Free: (800) REFUSE-1 (733-8731)
Fax: (515) 276-2976