Helix deFOG
Don't just Dislodge Grease,
                  Devour it.
NEW! How JetBugs Kills F.O.G.
JetBugs combines chemical & microbial degreasers to supercharge sewer jetting, helping prevent SSOs and backups. This 2-minute video explains how its powerful formulation tackles difficult, recurring F.O.G. problems.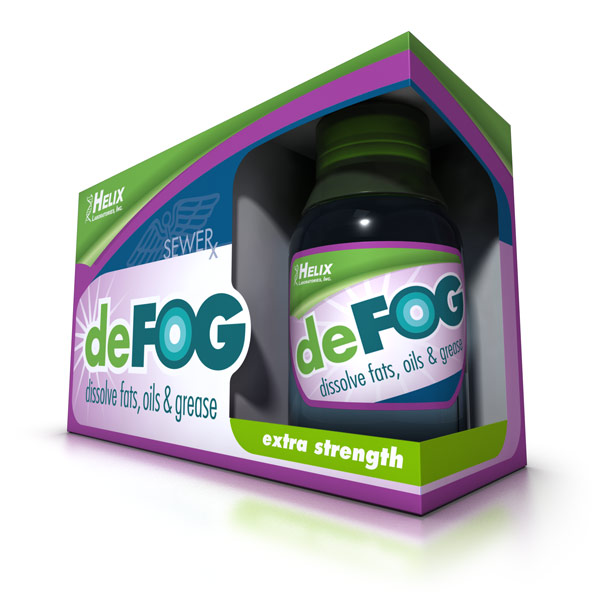 Powerful Treatment for F.O.G.
Proprietary deFOG microbes cure the root cause of SSOs and residential backups.
F.O.G. (fats, oils and grease) accumulation is notorious for constricting pipe flow and clogging lift stations. The powerful microbes in our deFOG products excel at digesting F.O.G. They displace wild bacteria, creating a persistent slime layer capable of combatting F.O.G. in a sustainable, eco-friendly manner—a strategy known as bioaugmentation.
Typically, problem areas are shocked with a high dose of microbes to clear existing F.O.G., and then precise maintenance doses are administered by dispensers installed upstream. After initial implementation, FOG is monitored regularly and doses recalibrated to maximize the cost-effectiveness of the solution.
Restore flow

to prevent SSOs and backups.

Improve safety

by avoiding hazardous materials, heavy machinery and traffic.

Save water

by reducing the need for jetting.

Reduce workload

with a self-sustaining solution that requires minimal intervention.

Stabilize operations

by making maintenance more predictable, and by reducing strain on costly pumping equipment.
Seed: Pipe Grease Control (liquid shock dose)
6-gal pail, dispensed via metering pump or manually
Minimizer: Pipe Grease Control (liquid maintenance dose)
6-gal pail, dispensed via metering pump
Grease Blocks: Pipe Grease Control (solid)
2-lb block (in case of 6) dispensed manually for time release
Grease Blocks: Pipe Grease Control (solid)
8-lb block (in case of 4) dispensed manually for time release
HL-5000: Lift Station Grease Control (liquid)
6-gal pail or 55-gal drum, dispensed via metering pump with misting system
Porc N Bags: Lift Station Grease Control (powder)
30-lb pail, dispensed manually
Expandable: Concentrated Grease Control
misted microbial degreaser
JetBugs: Jetting Water Additive
6-gal pail, dispensed via proprietary dispenser

Location
5105 N.W. Beaver Drive
Johnston, IA 50131
Phone: (515) 276-3352
Toll-Free: (800) REFUSE-1 (733-8731)
Fax: (515) 276-2976