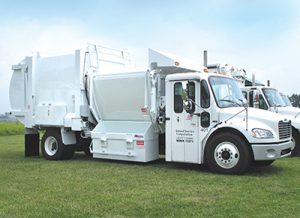 Mid-Iowa Solid Waste Equipment Co. is expanding its product line to include the G-S Products MP8000 Refuse/Recycling truck. This new product will complement Mid-Iowa's current Planet Cleaning Equipment offerings, and will meet client demand by bringing new features to their product fleet for municipalities and private waste removal and recycling companies.
The truck was designed, engineered and built for ease of operation and versatility. Exciting features of this truck:
Safe and stable full eject horizontal unloading — no telescopic cylinder
Large capacity receiving hoppers
Easy to operate controls
Fuel efficient engine idle operation
User-friendly side loading
Low maintenance — single cylinder loading operation (patented)
Manual and semi-automatic cart loading
LED body and work lights
No chassis drop frame requirement
For more information on the GS Products MP8000, or any of the other Planet Cleaning product offerings, contact Mid-Iowa at (800)-733-8731.
ell as help to make sure your Vac-Con's safety devices are functioning properly.